COLOMBIA: REBELS KILL WIDOW
Four months ago, National Liberation Army (ELN) guerrillas demanded that Alicia Castilla leave her home in Arauca, in northeastern Colombia. On the evening of Jan. 7, during a visit from the family's pastor, assassins entered her home and shot her in front of her three children and her father. She died immediately. The guerrillas had killed Alicia's husband, a lay-minister, two years earlier.
The guerrillas told Alicia's 18-year-old son, Hernán, that the rest of the family had three days to leave the region. After that, they warned, the killers would return and kill the other family members one by one.
Alicia was the widow of lay-evangelist Nelson Ramos, who was killed by the ELN in January 2011. Nelson became a Christian two years before his death and often shared the gospel in Saravena, a town near Colombia's border with Venezuela. A few months after his conversion, the ELN issued its first expulsion order against him and his family.
According to Hernán, the guerrillas never fully explained why they were so adamant about driving the family out of the area. Nelson was shot to death in the family's home as his wife and two small daughters, now 9 and 6, watched.
After Nelson's death, Hernán declared that he would avenge his father. He intended to join the Colombian military to gain training in weaponry, but he renounced his vow after a July 2011 encounter with children whose parents had been killed because of their Christian witness. Instead of seeking revenge, he was baptized and became deeply involved in church activities.
Hernán's mother was at a workshop for widows of martyred believers in December when ELN guerrillas visited their home and warned them for the third time to leave the area. Although Alicia was willing to move, her elderly father was not.
After Alicia's murder, government authorities refused to remove her body from the crime scene for fear of retaliation by the ELN. Funeral-home workers finally retrieved her body.
Founded in 1964, the ELN is one of several illegal armed groups fighting for control of the rich petroleum resources along the Colombia/Venezuela border. The guerrilla groups use the Arauca area as a narcotrafficking route. They forcibly recruit children into their ranks and persecute those who oppose them, including the church.
ARREST DETAILS REVEALED
Farshid Fathi, an Iranian Christian pastor, is beginning the third year of a six-year prison sentence on a conviction of "being chief-director of foreign organizations in Iran and gathering funds for these organizations." Farshid is one of several believers arrested over the past few years in the Iranian government's attempts to suppress Christianity. The details of his arrest were only recently released.
At about 6 a.m. on Dec. 26, 2010, security officials wearing plain clothes surrounded the home of Farshid's father. When Farshid's father opened the door to go to work, they forced their way into the home. They woke everyone in the house, including Farshid and his family who had stayed there Christmas night.
The authorities began a thorough search of the house. They questioned everyone present and, after completing the search, allowed Farshid to take his daughter to school.
"At the same time, another group of government agents attacked Farshid Fathi's own house to arrest him, not knowing they were not home," a source told Mohabat News. "They broke into the house illegally, destroying the entrance door, and searched everywhere confiscating whatever they thought could be used as evidence against Mr. Fathi, including his photos, flash drives, camera memory cards, the hard drive of his PC, laptop, documents, and even some money and his gas card."
After authorities from the two raids communicated, they realized they had accidentally allowed Farshid to leave his father's house. Livid over the mistake and sure Farshid had fled, the agents threatened the family with "harsh consequences" if he did not return.
But an hour later, Farshid did return. Authorities then beat him, insulted him and handcuffed him before transferring him to the Ministry of Intelligence building in Tehran. From there, he was taken to Evin prison, where he spent several months in solitary confinement.
A Christian prisoner who was Farshid's cellmate for a few weeks asked Farshid why he returned home, knowing that the agents were waiting to arrest him. "I couldn't leave my wife and children alone," he replied.
Farshid's faith remains strong even in prison. In December, he responded to the Newtown, Conn., tragedy by writing the following letter to parents of the victims:
To the fathers and mothers who lost their precious children in the Connecticut tragedy,
I really don't know what word in the world could comfort you, what relief could be helpful for your broken heart, and which hand could clean the tears which fall from your cheeks. I just want to say: I am so sorry and you are in my prayers.
I am sure these high walls cannot stop my prayers for you. Before this tragedy happened, I was thinking about my suffering that I'm going through because of my Lord Jesus Christ, especially being far from my lovely kids. But when I imagine how hard your pain is I forget my sufferings. Because I know by God's grace I will see my kids at the latest in 2017 when I come out from prison. But unfortunately you have to wait a bit longer. So I would like to express my deepest sorrow for your loss.
I believe we will have enough time in heaven with our lovely children forever. There is no gun there, there is no prison, and there is no pain.
In the hope of that glorious day.
Your Brother in Christ from prison in Iran,
Farshid Fathi
17 December 2012
UZBEKISTAN: VACATION RAID
Police raided a group of 80 Christians in Uzbekistan on Dec. 1 while they were vacationing at the Simurg resort in the Bostanlyk District of Uzbekistan. The raid occurred during a meeting at which they were discussing their faith and singing Christian songs. Police authorities confiscated songbooks and Bibles and charged some of the Christians with leading unsanctioned worship.
According to Forum 18 News, police initially claimed they only wanted to check internal passports. But the 12 policemen confiscated three Bibles and 100 songbooks and fingerprinted all those present. According to an eyewitness who asked to remain anonymous, police insulted the believers with abusive language and threatened to bring criminal charges unless they signed statements.
Four members of the group were charged with illegal storage of religious material, holding religious meetings and unauthorized religious activity, among other offenses. When asked why the Christians were being punished for merely reading their Bibles and singing Christian songs, a policeman replied that worship must occur only in "places specifically set up for religious purposes."
Google boss makes 'humanitarian' visit to PDRK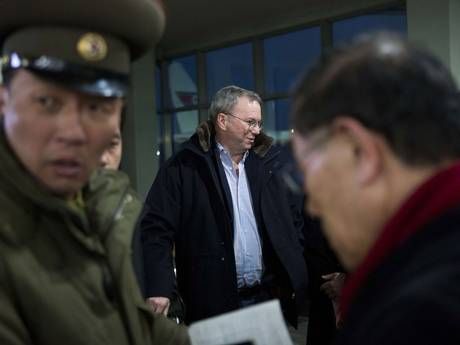 The Google chairman Eric Schmidt arrived in North Korea today saying he wanted a first-hand look at the country's economy and media.
Mr Schmidt, right, was accompanied by his daughter; Bill Richardson, the former US ambassador to the United Nations; and Jared Cohen, a Google executive. Mr Richardson confirmed it was "not a Google trip" but a "humanitarian private visit".
Despite the US government's opposition to the trip, Mr Richardson added he would try to discuss the detention of a Korean-American tour guide, Kenneth Bae, who was jailed in Pyongyang recently. "We'll meet with North Korean political leaders, economic leaders, military… we'll visit some universities," said Mr Richardson. "We don't control the visit. They will let us know what the schedule is."
Seven Pakistan aid workers - including six women - executed by Taliban for 'distributing polio vaccine'



Follow us: @MailOnline on Twitter | DailyMail on Facebook

Six female aid workers and a male doctor were shot dead by gunmen in Pakistan yesterday in an attack believe to be linked to the recent murders of polio vaccination workers. A child travelling in the vehicle was removed from the vehicle by the gunmen and replaced once the adults had been executed. District police officer Abdur Rashid Khan said their vehicle was targeted as they returned home from work at a children's community centre run by Pakistani charity Ujala, or Light.
PAKISTAN: RADICALS BURN CHURCH
On Friday afternoon, Sept. 21, a mob of several thousand radical Muslims attacked St. Paul's Lutheran Church in Mardan City, Pakistan. The attackers, armed with rifles and kerosene, overwhelmed security guards and broke into the church. They destroyed Bibles and prayer books, desecrated the altar and set fire to the church building and several surrounding homes and buildings. The mob was returning from a protest against the film Innocence of Muslims. In Pakistan, the government had declared Sept. 21 a national holiday in honor of Muhammad, and the day had been set aside for peaceful protests.
Muslims wrote on church wall, "Allah is great, O Allah help and love Prophet" (Click/tap to enlarge and open image gallery) The attack on the 82-year-old church lasted for five hours. The church staff was able to flee, but those who lived on the campus lost everything. An adjoining high school, a Christian library, a computer laboratory, the bishop's house, the bishop's office, a pastor's house and the school principal's house were all burned. The mob also burned a car, three motorcycles and three bicycles. More than 2,000 Bibles, 100 New Testaments and several hundred Christian books and DVDs were destroyed. The attackers spray-painted the words "God is great," "Oh God help us" and "Love our prophet" on the church steeple.
St. Paul's in Mardan, which is about 30 miles from Peshawar, was built by British colonists in 1937. The church is active in sharing the gospel with Muslims and also operates a Christian book store. A mosque is directly across the street from the church. In the last two years, the church staff has received six phone calls in which callers threatened to kill them if they didn't stop preaching and distributing Christian literature.
The day after the attack, church members and other local Christians gathered in front of the burned buildings to express their disappointment at the local government for failing to protect their church. On Sunday, Sept. 23, more than 1,000 people — many more than the church's usual congregation of 300 — attended a prayer meeting at the church site.
Pastor Gulam Shad, a church staff member and VOM volunteer, shared a message from Rev. 2:10: "Do not fear what you are about to suffer. Behold, the devil is about to throw some of you into prison, that you may be tested, and for ten days you will have tribulation. Be faithful unto death, and I will give you the crown of life" (ESV). He reminded the crowd that the Lord knows our suffering. "The teaching of Christ is to forgive our enemies,"
Pastor Gulam said. "His teachings are on forgiveness and kindness. Today we have to be a role model for other nations so they can see from us how we follow the teachings of our Lord." The same church was bombed in September 2010, after an American pastor publicly burned a Quran. Three security guards, including a Muslim, were injured in the attack. After the bombing, VOM provided the church with a generator, which was destroyed during the violence last week.
INDONESIA: JAIL FOR SHARING JESUS
Ribur was beaten and locked in jail for 60 days because she talked about Jesus.

Ribur grew up in a Christian family in Indonesia, and during high school she became interested in mission work. After studying for five years in a Bible school, she joined a community-development group that was teaching agricultural methods to villagers in Aceh, located in the far north of Indonesia's most western island, Sumatra. Teaching agricultural methods, such as organic farming and livestock breeding, gave the team an opportunity to hear about people's lives and share their Christian faith if asked.
Ribur soon started a small Bible study in a nearby village, meeting weekly with a family of believers and reaching out to the Muslim community as well. She and a friend from the development group, Roy, began speaking with a woman in the community named Maria. They visited her on a Monday and returned to see her the next day. Maria was ill, but they spent a little time sharing about Christ. Maria then appeared to pray and ask Christ into her life.
On the third day, Ribur and Roy went back to check on Maria. A young man waiting outside talked to Roy while Ribur went inside the house to find Maria. As soon as Ribur arrived, Maria excused herself and said she had to go somewhere. Suddenly, the young man speaking with Roy punched him, and a crowd of neighbors gathered.
Someone grabbed Ribur by her headscarf and hair, and the crowd began beating her. The crowd then forced the two Christians to walk to the village leader, lashing them with a cattle whip as they walked. When they arrived, an official accused them, saying, "Why did you bring Jesus to Aceh?" As Ribur began to answer, she was struck again.
The accusatory questions and beatings continued for 45 minutes. Ribur prayed that the Holy Spirit would give her the strength to stand strong and testify to the truth. Her face was bruised, and the inside of her mouth was bleeding. One person had used a stapler to beat her in the head. Roy was also bruised. Eventually the local police came and detained them. They then drove them to the provincial capital, more than an hour away.
They arrived at 8 p.m., and the police questioned Roy and Ribur until 3 a.m., accusing them of blaspheming Islam. "I wasn't frightened," Ribur said, "because I had already been beaten in the other office. Also, the Bible says you will have persecution."

"Why were you sharing about Jesus?" the officers asked.
"Jesus is for all people," Ribur said.
"What materials did you bring?"
"Just a Bible," she replied.
"Have you read the Quran?"
"Yes, but not too deeply," she said.
"Why did you share about Jesus?"
"Jesus wants everyone to know about him," she said.
Roy and Ribur were arrested on May 29, 2012, and three days later were charged with abusing Islam so that police could continue to hold them. The police seemed to be searching for evidence.
Ribur was alone during the 60 days she spent in jail. She was the only woman in the women's cell, and she used the time to read the Bible and pray. No one bothered her, but one of the guards told her it was the first time they had seen how a Christian prayed and read.

"Prison was a learning process for me," she said.
Ribur was released after two months. Police could find no evidence against her and Roy, so they had to let them go. "After I was released, I felt that the same God who helped me in the prison was helping me still," said Ribur.
The group's work in Aceh has stopped for now. Ribur continues to help at her local church, and she dreams of planting churches in Sumatra
.